Founder of Genius Switch Studio, Christian Seeber, and I, Katie Shine, attended the HubSpot social media and marketing conference, #Inbound15 in Boston a few weeks ago. Four days filled with informational sessions, insightful keynotes, and a few witty celebs (Aziz Ansari and Amy Schumer) provided us with a wealth of knowledge. We'd like to pass a bit of that off to you.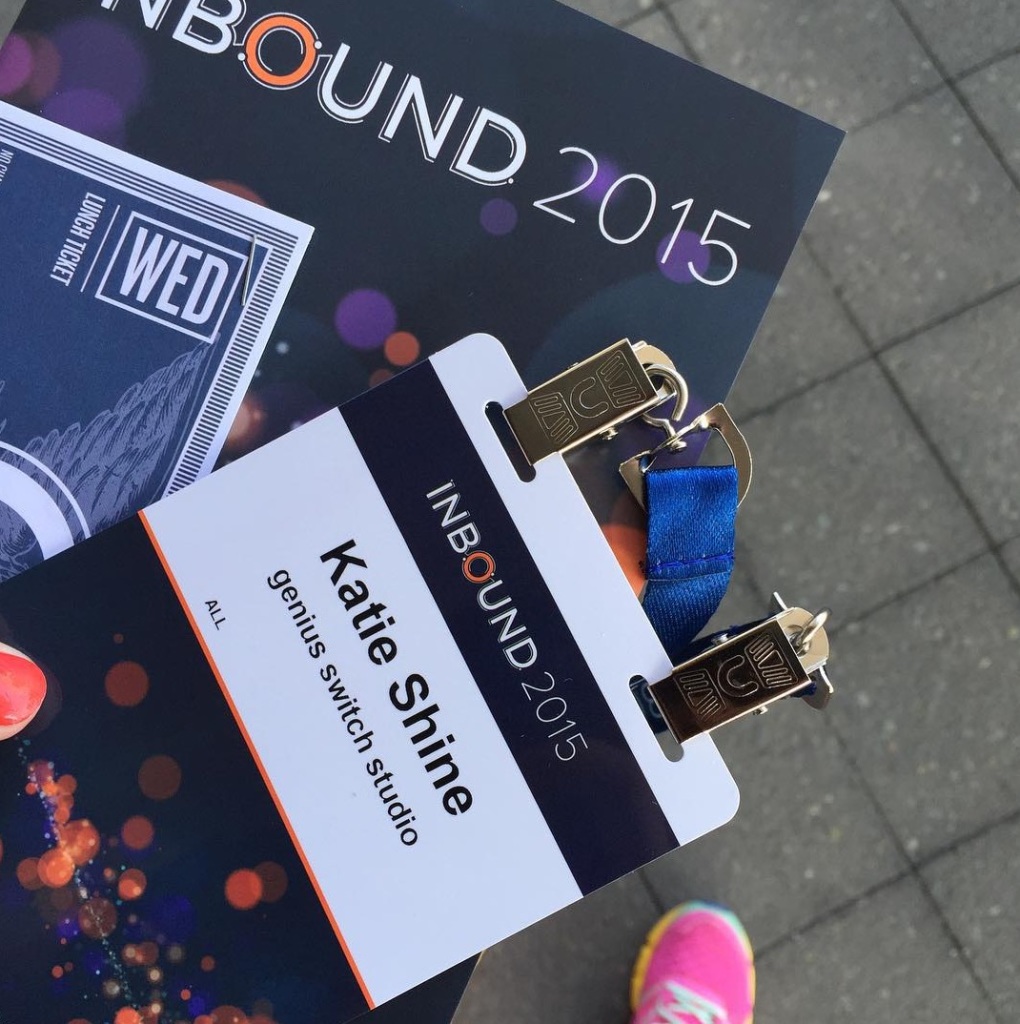 15 Things We Learned at #Inbound15
1. Planning an event or conference for your own company? Important things to think about: provide free and reliable wifi, power outlets and charging stations, branded and relevant swag, create post event surveys to gain insight and feedback. HubSpot was on their A-game when giving out the event perks this year!
2. Don't send your company emails on Tuesday anymore. Monday is an important day to send. Saturday is also good. Just because it's the weekend doesn't mean people stop working. What? You don't check your email on the weekend?
3. Spell Check. Nothing is worse that having an incorrectly spelled blog post or subject line of an email. You'll look like a fool in no time.
4. Content and conversation is a celebration of your brand and weak content won't cut it.
5. Pay real writers to create something that moves the masses.
6. Don't pay to boost every single post. Be strategic with your social media marketing budget. Fifty dollars can go a long way.
7. When creating video content for Youtube use tags to link to similar content, engage your followers in the comments section, and make sure to have a custom thumbnail. Youtube is the 2nd largest search engine. Harness its power.
8. Takeaway from the Seth Godin opening day keynote: 'I'm not sure what the question is but the answer is YES.' Start saying yes. Yes, to helping someone. Yes, to the adventure that is your life. Yes, to taking responsibility. Yes, to giving others credit. Yes, to trying something new.
9. Be honest about what failure truly feels like and talk openly about it with others, it's the only way you can learn from your mistakes.
10. Get BOLD with your content to stand out against a sea of timid brands. Determine the tone of your voice. Ask yourself, 1. Who you are. 2. Why you do what you do. 3. What you're like to deal with. These questions will help you attract like minded people.
11. Reward your biggest fans. 'Skimm', the daily email newsletter that allows you to literally 'skim' over the top news headlines each morning, rewards followers who share their sign up page with free swag like mugs, shoutouts in their emails, mousepads, bags, and even trips! The more you share, the more your get.
12. Visuals matter! They stand out among the sea of social stream. 93% of our communication is visual.
13. Native marketing shows up quickly in searches. Build relationships with media outlets and feed them (they're hungry) relevant news and soundbites about your company.
14. For your editorial plan know that audience retention is the most critical metric. Stay consistent with format & expectations.
15. Call your mom, she's your biggest fan!