// Social Media Missteps you are Making Right Now //
// And How to Avoid Them //
Living under a rock.
Awkward example: Shortly after the 2013 Boston Marathon bombings the foodie site, 'Epicurious', tweeted "In honor of Boston and New England, may we suggest: whole-grain cranberry scones!"
How to avoid it: Pay attention to current events and be extra sensitive to your followers. You never know who is following or who is watching your feed.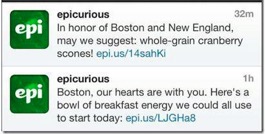 Getting angry.
Awkward example: The social dating app, Tinder, exploded recently when they fired back at a Vanity Fair writer who wrote a scathing article about their services.
How to avoid it: Restraint. No one is perfect and from time to time someone is not going to like your work or you. The key is to rise above it and remember what your mother told you, "If you don't have anything nice to say, don't say anything at all."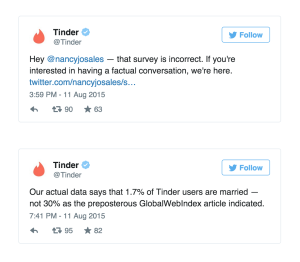 Liking yourself too much.
Awkward Example: Your Facebook page has more than one administrator. You post a flyer for an upcoming event. The other administrator logs onto your page and 'likes the post' from their phone. Obviously, we already know that 'Sean's Shoes' like the upcoming fall sale event because they are the ones who posted it… duh. No need to like your own posts.
How to avoid it: Prepare and distribute social media guidelines to all employees that have access to the accounts. Guidelines should include a content calendar, privacy settings, publishing templates, etc. One of these guidelines should be never, ever like your own posts.
Message Echo.
Awkward Example: When Twitter, Facebook, and Instagram are all linked to one another your content is repeated across all platforms. Sounds efficient right? Yes, but this over saturation clogs up your follower's news feeds with the same story over and over again.
How to avoid it: Un-link all your accounts and start to understand that each platform is meant to tell a different part of the story. Example: Your restaurant is featuring a week long special of fresh oysters. Here is how you'd tell this shell' of a story.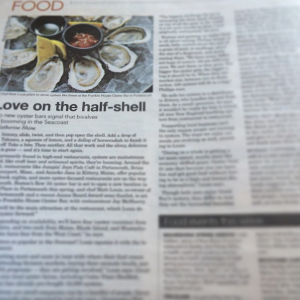 Example:
Twitter: Oysters are the ocean's way of telling us she loves us. She must love us extra this week. We are featuring buck-a-shuck M-F. #thisweekonly
Facebook: There are 6 steps when shucking an oyster. You can learn more by following this link. Warning: our favorite step is missing from this list. #6 Eating them!
Instagram: Post a photo of the featured oysters with the caption, "Name the region of this oyster, east coast or west coast". This image heavy social site has some of the highest engagement around. Get in on the fun with a little trivia, just make sure you provide a correct answer after a few guesses have been made.
Looking for some help with your company's social media strategy? Drop us a line, let's chat!