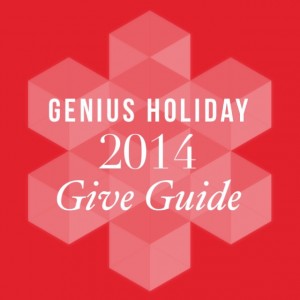 Last year we published a helpful guide called, The Genius Holiday 'Give' Guide, which focused on ways to make the upcoming holiday season brighter for others through simple acts of technology-based charity. So, in contrast to this week's kick-start with Cyber Monday, we've come up with a few 'good' tips for your holiday season this year.
1. If you're human, it was probably hard to avoid all the amazing tech deals online yesterday. And if you made any mobile device or electronic upgrades, make sure you consider a certified e-cycling program or donate it to give your old device a new life!
2. Check-in for Good. No, really, download the mobile app called, Check-in for Good. Every time you check-in at a participating location, a micro-donation is generated for a cause of your selection. It's a great way to put your phone's geo-location technology to 'good' use.
3. Back again for its 3rd year, Giving Tuesday celebrates a national day of giving. Dedicated to encouraging charitable actions in contrast to all the Black Friday and Cyber Monday sales, Giving Tuesday has gained considerable traction nationally. Make sure you take part in some giving, and add to the social buzz with the hashtag- #GivingTuesday.
4. For the next week, some apps will do more than others. These apps will help save lives. Shop Apps for (RED) from now until December 7th, and 100% of proceeds will go to the Global Fund to help fight AIDS.
5. One in five children in America face hunger. Project Sunlight, a collaborative between Unilever and Feeding America, gives us 8 simple ways to share a meal. Most notably, organizing a virtual food drive (#6) and spreading the word on social media as to why you #ShareAMeal (#8) are easy to accomplish with just your phone.
Remember, where you choose to spend your money this holiday season matters. So shop to help build a better world by supporting your local businesses and/or businesses with ethically sourced and created products. If you're looking for something with a little sparkle this season, check out our friends at Aid Through Trade. This fair trade fashion design company employs woman in Nepal to create beautifully beaded jewelry with dignity. Looking for even more ideas? Follow our board on Pinterest for ongoing gift ideas and tech tricks on how to give with the technology already at your fingertips.